Almost every day during the past few months I thought I should write here. But I allowed many petty, pet distractions to sway me away from this love. What a fickle lover I have turned out to be!
I come back to this blog – exactly after eleven months – reflecting about an accomplishment worth writing home about.
Three weeks back, on Sunday, August 26, I participated in a Swimmathon and swam for a little more than 4 hours to conquer 5 km in SDAT swiming pool in Velacherry.
Participation in this event was not planned. Venkat, my friend suggested in July that I participate and I said yes. I reasoned, I would practice regularly during the intervening one month.
It turned out that I could manage just one practice session of less than one hour duration after registering. That was the only swim from the beginning of 2018 till the swimmathon event. I rarely grab opportunities to swim in Chennai. As a youngster, I used to enjoy swimming in a river in the village I come from. My muscles haven't forgotten how.
I reached the swimming pool around 6 in the morning secretly harbouring the dark intent to abort the swim after 2.5 km.
Even before I completed 500 metres, I was doubtful whether I would last the next 500 metres. I blamed myself for not practising and making a fool of myself by leaping before thinking. During the first hour of swimming there were moments I feared whether I would come out of the pool alive.
To my surprise, I came out alive and kicking. It was my energy and intention carrying me one lap at a time – very much like the powerful light beams of a car showing the way ahead in the darkness a few metres at a time until reaching the destination.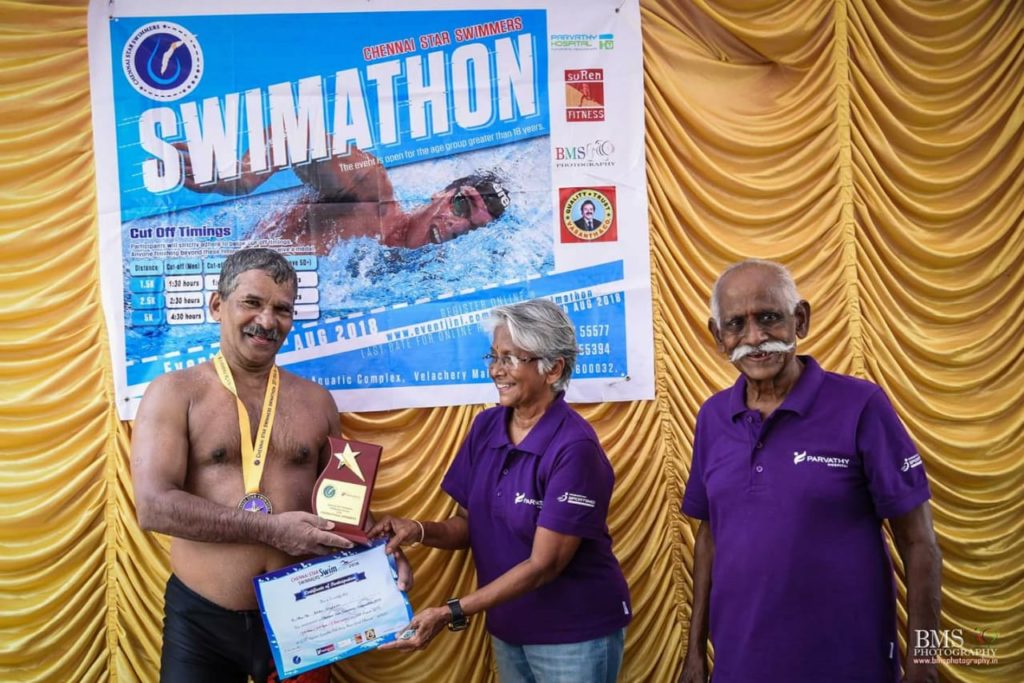 I was among the last few to complete and it didn't dampen my spirit all that much. I let the congratulatory words from my friends and a few strangers sink into me.
In that state of exhaustion, I felt elated by my unexpected triumph in the pool. That top-of-the-world feeling lingers.
After the painful hangover of the swim, I ruminated over the wisdom of leaping first and figuring out how to come out alive next. I have indulged my impulses and whims many times in the past – in switching careers, running distances, getting into business and choosing my partners in life.
Sure, my decisions brought me pain and frustrations, but I learned to deal with them. And I grew out of them. Once in, don't we all find a way out by plumbing the genius within us?
I am now reading an incredible book, Born to Run written by Christopher McDougall. He describes the race of a running legend, Scott Jurek, as he lay motionless for more than 10 minutes after running 60 miles out of the 135 miles Badwater Ultramarathon (the toughest ultra foot race in the world), in temperatures searing enough to melt the soles of a runner's shoes. He contemplated quitting knowing he couldn't take it any more.
As he lay still on the ground, he pictured himself "starting all over again. like pretending you just woke up from a great night's sleep and the race hasn't even started yet. You would have to run the next eighty miles as fast as you've ever run eighty miles in your life. Then he got up and did it, shattering the Badwater record with a time of 24:36."
In many areas of my life, the race is on. I coax myself into running my races with fervor and freshness.
I realize the greatest races in my life are: to love more, take personal responsibility to bring up my business, write regularly, with passion and truth, and get back to running more marathons and ultra marathons. I am an explorer in life and there is room and time enough for more.
I embrace all these experiences to explore new horizons and to express myself. Love is what ought to permeate and guide my explorations. I have it within me to rise up every time I fall and cross those inevitable hurdles with fresh insights.
It is okay to leap on a gut feel and then find ways to get to the other shore. Not deciding on actions to propel my life is the fastest route to stagnation. That is the biggest risk of all.
I make the crucial first leap with the decision I make to leap. That is when I show love for myself and chisel something beautiful from within.
Decisions are the inflexion points. Then, I merge with the decisions, prepare and follow them to their conclusion.
It makes a lot of sense to leap knowing where I am headed to.
When I know, I indulge myself – by making that leap of faith.