I have tried my best to live life on my own terms. But I cannot ever downplay the role of other people in impacting my life, hugely.
This space is for the forces that have inspired me in very fundamental ways, to be what I am. People and some books have, in the main, influenced me deeply and shaped me. They have helped me grow soulfully.
My first few posts in this Inspired By section is about the people who have left a very lasting impression on how I think, feel and behave. And because of whom I have grown immensely.
I am first writing about my family – my parents and my siblings – not because it is the fashion to do so. I am indebted to them for so many things. My father was a trail blazing adventurer who left the comfort or discomfort of his home in South Kerala to opt for a life of clearing the forests, fighting the elements and making a home and living in the Malabar region of Kerala – in Kilianthara. This is one of the most beautiful villages in the whole world. Kilianthara is hemmed in my mountains and a lazy river snaking its way through its undulating terrain.
My mother brought up her ten children with values and deep religious beliefs. She was frail, yet one of the strongest person when it came to facing challenges. When I was the first rebel in the family to marry outside our religion, after the initial arguments, they accepted me and my wife wholeheartedly. My father came to Calcutta along with about ten other relatives to witness the wedding vows being exchanged.
Both of them together, while tending to their ten children, the cattle, the hens, the farm, undergoing huge financial stress, also found time to celebrate the spirit of family every now and then. The celebrations consisted of sitting together as a family and enjoying an elaborate spread of fantastic dishes my mother was so good at preparing. My father would also share with all of us, the boys and girls, from his liquor bottle, on such occasions. Only, we had to celebrate in silence, as we were dead scared of him. Yet, the special family meals eaten and enjoyed in silence were very, very big events for all of us.
My parents are no more, the house my father built has been demolished, but the annual get-togethers and celebrations continue. My younger brother, Joychen, constructed a new house – a very big one, with a big courtyard all around the house – keeping in mind the comfort of all family members when they come together twice a year or more, on special occasions. I do not think there are many people in the world who would design a marvelous house of his dreams, borrowing heavily, to keep alive the spirit and celebrations of the family. His house resonates with happiness and I was moved recently, after a trip there, to write a post – The House is Fully Empty. Yet, it is not a perfect world even in his house, he does not allow drinks in the house. He is a puritan, aspiring to be the next saint from Kerala. We get the permission grudgingly to drink and make merry in my eldest sister Marykutty chechy's house.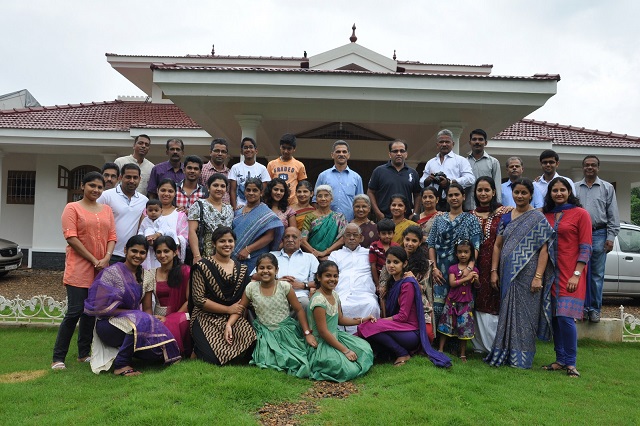 These days, when we celebrate, there are close to 40 people or more – my siblings, their children and their children and not to forget, the most wonderful in-laws who have integrated seamlessly into the Mannanal family fabric. We have happy times together, playing football, cricket, flybee, then eating, again eating, at times going to the river for a swim and bath, drinking, eating……… Some evenings, the young ones organize entertainment programmes. They sing, dance, put up skits and give us the time of our lives.
I have six sisters, the eldest is Marykutty chechy for whom I am still the little one. It feels nice to be spoken to tenderly. Elsy chechy, the one younger to her lives in Bangalore with her husband. City life and exposure to the world has not made her less loving, and though she is not so demonstrative, she has a heart of gold. Moly, my younger sister living in Bangalore is one of the most affectionate among my sisters. She is also known for keeping company with anxiety. Celine lives in Calicut and is someone we all can turn to. Lately, she is vying with my brother Joychen in kaun banega next saint saga. Beana who lost her husband a few weeks ago in an accident used to be known for her strict ways. She is strong and courageous and we all know that she will face her challenges in life and come up trumps. My youngest sister Renny was a national basket ball player. She is vivacious and full of fun and when it comes to standing by her family, she is as committed as anyone else. I lost my elder brother James about 15 years back. His wife Accamma chechy is efficiently filling the void and doing everything in her power to ensure her children make it big.
My young nieces and nephews and their children aim at making it very big in life and it is pleasing to see all of them taking big and small strides, marching towards their dreams.
May be one of these days they will see this post and realize one of the greatest gift they have inherited from Mannanal family is the love, zest for life and celebration of the spirit of family. These are influences they cannot buy for all the money in the world. These sustain them when they are down and give them the encouragement to aim for the stars. Joychen has taken the torch of tradition passed from my parents and has so wonderfully kept the flame burning.
When it is their time, those who follow should take over the flame and keep it burning. For the sake of tradition. For the family. Because life is beautiful, it needs to be celebrated.