I love the home I now live in, even with the prohibitive rent. I had shifted to a first-floor house in June last year, determined never again to live with the haunting memories of the December 2015 flood invading my abode under seven feet of water. But the new place didn't feel like a home, it was a happy place only for the swarms of mosquitoes thriving there and we started looking for a new house within two months of shifting. We saw dozens of houses.
On the verge of giving up hope of finding a decent place to stay, a broker showed us a place, a stone's throw away from the house where we were living. We fell for the place the moment we saw it but soon got reconciled to continuing the house search as the rent was beyond our means. Besides, the place was on the ground floor.
The pull of the house we liked and ignored was too strong to resist, that is how we started living here since the beginning of October 2016.
When I am confronted with the reality of having to cut my suit according to the available cloth, most often I wager for a bigger cloth to cut the suit that fits me. My belief is, putting my money on an expanded cloth means a bigger canvas on which I can paint. I convince myself the trade off works in my favour. Sometimes I am lucky and at other times I end up paying up for biting off more than I can chew.
I have been lucky with this mode of thinking. When I succeed, I am on the side of luck and when I fail – not getting the desired results – I am still lucky because I have traveled some distance (even if it is backward) and some lessons have percolated in. Though backward motion can't be logically called progress, the experience is a teacher – as long as it doesn't break my spirit. My spirit is still willing and eager.
Rosy and I took loving care in setting up the house. The turquoise green upholstery and curtains we chose perfectly blend with the white walls and the furniture, which is the colour of earth. It feels soothing to be in the house. Naturally, we felt inclined to pay attention to adorning the walls with paintings and photos.
There is an idea in my sub-conscious that the images I see often are a forerunner of things to come. About 20 years back an interior decorator had chosen for me a painting – of a defiant, turbaned warrior (he looked like Tippu Sultan) with a sword in an outstretched hand, riding on a horse towards a dilapidated fort, as if to claim it as his own. The painting was meant for a newly interior decorated office where I was the head. A colleague of mine had advised me a few times to take it off the paneled wall, but I let it hang there. Within a year or two my fort and my fortunes looked and felt dilapidated – like the vain warrior's.
I always get to choose the images I want. Letting others choose it for me is abdicating my responsibility and I inevitably end up paying the price.
So, I spent endless hours poring through shutterstock.com for the type of images that would give me a kick.
The first image I settled upon was this photo of a man surfing.
While watching CNN, I saw a shot of swirling waves with turquoise green tint and I immediately knew that something like that would look great on the wall of our living room. Perhaps the idea of surfing dawned recollecting a quote I like – You can't stop the waves, but you can learn to surf.
I must have clicked through at least a thousand images to settle on the one for our home. I rejected all pictures with sunsets though they looked beautiful. Sunsets are sad, they indicate waning and they are harbingers of darkness. And I was particular the man on the wave should be delicately poised, not off balance, enjoying the challenge and the fun at sunrise.
I love this picture. It indicates adventure, an openness to life, freedom and oneness with nature. There is risk in this sport, but that is how the best can be got out of life. The sunrise indicates a new beginning and the freshness of life.
I made a trip to the studio of a wide-format printer after sending him the above image by mail and told him I want the image printed on a half elliptical glass roughly 4' x 2' size. This picture, once it is ready, will be in our drawing room.
And I surfed the net to find out the people who teach surfing in Chennai. A thought has germinated that during this year, I will learn and experience what it means to be on a surf-board to befriend and discern the secrets of mighty waves.
The next one I chose was this picture of the Buddha in meditation. Serene, soulful, peaceful, unruffled, one with the force of the universe, aware – are some of the words that parade through my mind as I gaze at it. There is a hint of a smile on the visage of the Buddha and there appears to be a merging or communion with the energy of the universe.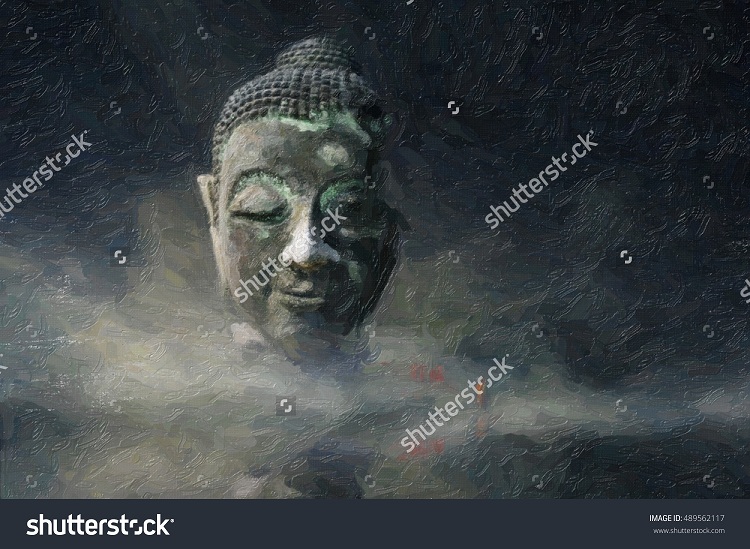 This picture will be printed on canvas, 3' x 2' size and it will hang in our bedroom at the head of our bed. There is a deep desire within me to stay calm, be aware, live in the moment and take in life in all its vicissitudes and majesty. Quieting the chatter of the mind to experience the unfolding of my life as it happens is something I have always yearned for.
Ever since I read Jonathan Livingston Seagull the lure of learning, search for meaning, transcending myself, stretching and believing in myself have intensified their sway over me.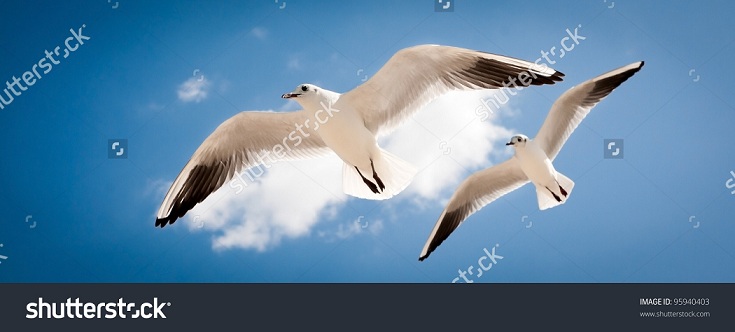 I visualize a teacher or teachers – physically or through books – guiding me through the art of soaring effortlessly through life. That is why I chose this picture with two birds. It also means soaring through life with my companion. I am very much dependent on the world around me and there is much that I can learn and internalize through my relationships.
It occurred to me that I am obsessed with myself while this house also belongs to my wife. I looked at many, many pictures of couples in love. But this is the picture which captures the essence of how I wish our relationship to be defined.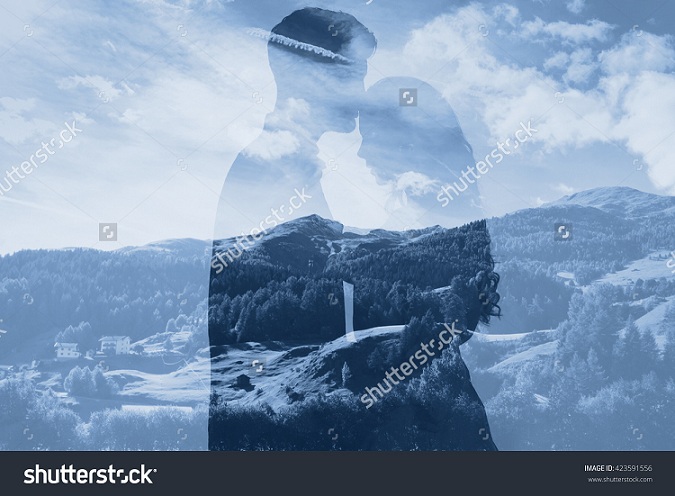 This double exposure photo conveys deep communion between two people evoking strong feelings of love swathed in the beauty of nature. This is a journey worth taking. My experience of living the essence of the first three pictures might lead me here. Or, finding the communion and love in this picture might help me discover the elements I seek in the first three pictures.
I was attracted to so many other pictures and themes, but I know pictures are defined by the empty spaces around – like a symphony is by the pause between notes. So is it in life, it isn't the many pursuits in my life that shape me, it revolves around my ability to stay glued to my being.
In the post I wrote in February, 2014, – NLP and words that make a path on which I walk – I had dwelt on how written and spoken words influence my life.
The images I pay serious attention to, work their way into my subconscious. They penetrate my being and weave their magic wands on my neural paths.
I have the essence of these pictures within me, that is why I spotted them, in the first place. Having the pictures in the house would remind me of what I have so that I value my treasures. In a way, it is a way of thanks giving.  It also reminds me to tend to my garden of flowers with love and discipline.
It is taking me a long time to actually order the pictures online and get them mounted on the walls of my home. I have been living with these images only in my mind for about two months. I see myself conjuring a way of valuing my time which is ticking one moment at a time.
Once the pictures are mounted, I will post them in this blog.