2016 was a dismal year concerning my marathon races, like I mentioned in my previous post. I am so very happy that 2017 has begun on a promising note.
I ran the full marathon distance and completed TWCM last Sunday, on January 08. The terrible timing (05:36:31 hr) screams at me that  there is a lot of room for improvement. I am overjoyed that I didn't succumb to promptings to give up midway.
I had barely slept for 2 hours at night, before the marathon. My stomach felt heavy during the run. The excited anticipation and determination carried the day for me.
The TWCM organizers flooded my facebook page with my race photos. The expression on my face in those photos indicates as if I were running on live coal. It felt good to hear the congratulatory messages.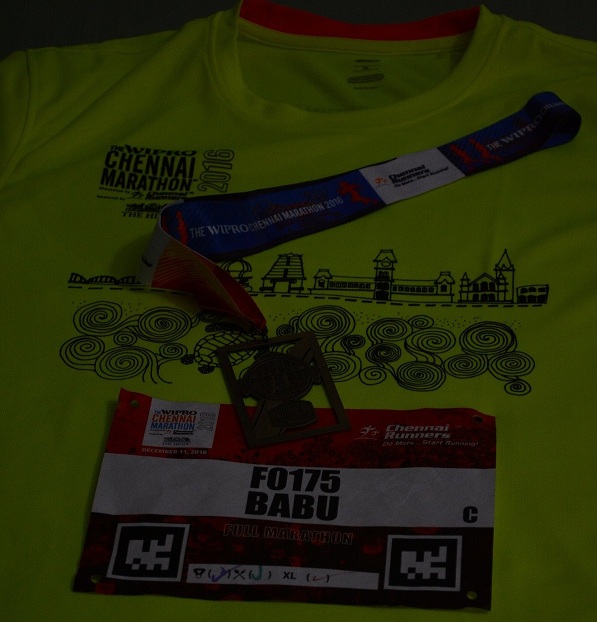 On the days post my run, I splurged on food and also had a few drinks. I don't feel as fit as I was last Sunday and may be I have already added a kilo or two. I ask myself now, why I should reward myself this way, if it whittles away the benefits gained.
The real benefit of a marathon is the emerging realization about living in a state of readiness with laser focus on the different races of my life. If I do not let up, if I stay the punishing course and get up every time I fall, the race is mine to be won handsomely, with good timing.
There are two real marathons on my radar – the Auroville Marathon on February 12 and the Delhi Marathon on February 26. I see the chemical composition in my brain working out the right alchemy for a very good run, right this moment.
May be, this is what it means to live in a state of grace.
My preparation during the past few months was all by myself. I thought it would give me greater focus. This morning I ran with my running group after several months. Running with a few good runners showed me that there is a lot of catching up to do. From now, my practice runs will be with the group.
"NOW this is the law of the jungle, as old and as true as the sky, And the wolf that shall keep it may prosper, but the wolf that shall break it must die. As the creeper that girdles the tree trunk, the law runneth forward and back; For the strength of the pack is the wolf, and the strength of the wolf is the pack."
Probably I remembered this quote from Rudyard Kipling's Jungle Book for some reason.