The training session yesterday, May 2nd, was very special.
During the break Mathews asked me how I was proceeding with my plans to become a trainer. I said I had written down my Beliefs and Objectives, yet I was apprehensive as I was not confident about communicating effectively, with enthusiasm. He told me that was not true, as according to him, I came across as an effective communicator. My voice was loud enough and I expressed myself well. And I had content.
Sita came to me a little while later to congratulate me on my presentation. She told me it was very different and creative.
Towards the end of the day's session, Manoj conducted an activity where everyone had to pin an  A-4 size paper with their name, on the back of their dresses. Then everyone was asked to write a word or two describing each of the participants on these papers. The activity must have taken about 15 minutes.
What I saw at the end of the activity on the paper pinned on my shirt pleased me immensely. I thought this activity was brilliant.
The words that described me were: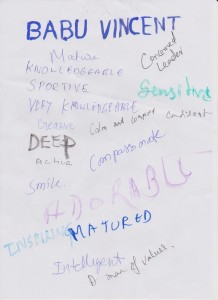 Mature, Knowledgeable, Concerned Leader, Sportive, Deep, Very knowledgeable, Calm and composed, Sensitive, Creative, Confident, Active, Compassionate, Smile, Adorable, Inspiring, Matured, Intelligent, A man of values
After I returned home, I looked at the words a few times and it felt very good, even conceding that people tend to write or say only about the good of others during such activities. I wondered why I do not value myself more and have deeper esteem for myself even as I know all these are truly part of me.
I am going to frame this paper and hang it in my room to remind myself that I am all these. So that when I see the framed words I would be softer on myself and love myself for what I am. Not in a way to boost my huge ego, but in a gentle way to remind myself that I am wonderful and enough as I am.
Then it occurred to me that I have huge potential for doing good.
The fact also dawned on me that I have not done justice to my potential for several years. May be I did not believe in myself enough. Or I did not have a burning cause to fight and strive for. Or, I may not have shown up enough and done my work.
It is time to fight the good fight within myself.  And emerge a winner. For my sake. And for the sake of the world. To leave it a better place. And to make the people I come across happier.
The motto that I penned down during Joel's activity/presentation yesterday was – Live. Truly Live. I wrote these three words almost instinctively and I liked the sound and look of it. This is adapted from what Anusha my daughter had coined for Sumathi's epitaph – She lived. Truly Lived.
The by line – Live. Truly Live – under Soul Gym (the name I have decided upon for my training company) would give it the right  inspiration, zing and resonance.
So, Babu Vincent, Live. Truly Live.
As I was walking down towards the car after the day's training, Mathew told me again that I am good and have a lot of potential. And I can refine myself through constant practice. How I am grateful that there are good people like Mathews around!
I really needed to hear those words. Desires and dreams again welled up within me. To Live. Truly Live.