It seemed the right thing to accept Ramesh Prasad's invitation and attend Inspire Days. During the past few months, I have been rooting for myself, firming up on my goals and taking action on various fronts – mainly on the business front.
I am almost certain, if I were not in that frame of mind of expectancy I would not have recognized Ramesh's invitation. May be this is how the law of attraction works.
I reach the venue, Green Meadows, an hour before the programme is to start. There is an earthiness about that place. Many other people too have come early like me and I engage in conversations with some of them and I listen to their stories. A cord of connection with the group slowly forms as an invisible bond.
The first session I attend with Mudassir Altaf on Embracing your Deepest Truth is like a warming up exercise. Mudassir is as authentic and true as the topic he handles. As he shares his insights with eighteen of us in a spirit of raw vulnerability, I sense the courage he has to reveal his deepest truths. In many, many ways, that session at the start of the day is like a gentle breeze that blows away my defenses and I find myself delving into myself in a spirit of openness even as I am listening to him. So, some of his words don't register, but I capture their essence through the breeze that wafts within.
As Sidhartha Satpathy reminisces about how he discovered The Elephant in him, I hear stirrings of the elephant in me – never mind, even if I hear the clanking of some chains. From being a laid-back person early in his career, to developing himself as a keen observer of life during his many journeys, Sid's life has seen a huge transformation. He finds time also to digest his experiences and share them with the world through books he publishes. As he narrates how he has chiseled his life, I see in him an adventurer who has found his calling in life, chronicling life through the peep holes of his unique perspectives.  I keep thinking – to find the elephant in me, I need to be comfortable being my authentic self, even if it means being thought of as weird.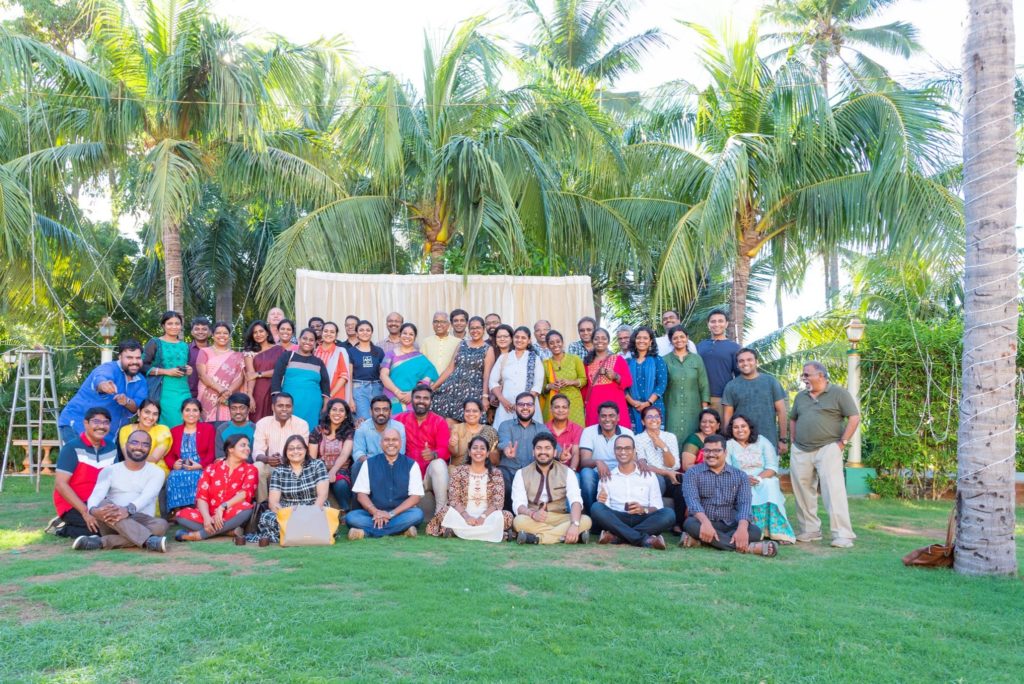 Ramesh Prasad has so many dimensions to his personality. Sometimes he is very cerebral, at times he is all heart, other times he is a monk, then a student, then a tremendous teacher, then a friend…… He keeps reinventing himself because he is at home saying yes to the uncertainties and newness of life. He bares his heart and shares the joy of stepping into new grounds leaving the old. John O' Donohue's verses sum up for me what Ramesh's message about saying yes to life is:
You can trust the promise of this opening;
Unfurl yourself into the grace of beginning
That is at one with your life's desire.

Awaken your spirit to adventure;
Hold nothing back, learn to find ease in risk;
Soon you will be home in a new rhythm,
For your soul senses the world that awaits you.
I know only too well, saying no to many trivial things puts me in a place of readiness to say a big yes to the things that really matter.
What an awesome group is present on this Inspire Day! Almost everyone I talked to has something deep and special about themselves to share. In their own ways, most of them excel in the things they do because they have said yes to their potential and calling. Many say, Ramesh and Sue Knight had a role to play in their lives – in helping them over a threshold into a new world.
Sue Knight is an invisible presence. A few of the people I listen to, particularly Ramesh Prasad and Ramesh Manickavel speak of her quiet but powerful words and her wisdom with huge respect and gratitude.
Ramesh and Julie Basilica deserve special appreciation for introducing the topic of intimacy between couples. Love Aaj Kal as the name of the session is rather vague and hides more than it reveals. May be, it is fit to frontally name and discuss about an aspect of our life that can (if we allow and choose that way) to be a form of meditation or a spiritual experience when happiness of the other is on focus. Tenderly and courageously integrating this element into our lives is as important as nurturing ourselves mentally, spiritually and physically. It requires a lot of guts to discuss the topic of sex and making love in front of a predominantly amused male crowd. Julie has a lot of guts even to attempt to discuss this topic in the open.
How I learnt a new Language is Dan's (Denis Capdeville) story of how he uses the vast power of the subconscious mind to delve deep into himself to communicate his ideas in a language alien to him. The topic is a metaphor for conquering new territories in any field.  Some choose to unravel the mysteries of the subconscious, a layer at a time and some prefer to be in silence, merely observing the moments of life as someone experiencing the experience. It turns out at the end, there are more questions than there is time for answers – which perfectly serves the purpose of a session like this. Dan looks serious, but it turns out he is very genial and generous as a person.
I find alignment with Venky Karukuri's – Going with the Flow. In addition to his 9 to 5 job, he embraces the challenge of stiff business targets because he has belief in his potential to achieve them. Business is a means of expressing himself. His passion is not confined to his business but also touches other areas of his life. From what I sense from his talk, there is a connection of the spirit that permeates all aspects of his life. I remember him saying – success in achieving his business goals is linked to his harmonious relationship with his wife. Harmony in one area of his life also flows into other aspects of his life. Spirituality or living his life in awareness means a lot to him. There is a lot of zen involved in the way he pursues his passions.
The last talk I hear is of Ramesh Manickavel – The Miracle Man. His sharing is about his profound journey from counting his days on earth to living his days in fullness. Everyone listening to him in the room is glued to every quietly proud word he utters about the choice he made to live. He recounts his experience with rare dignity. He says he initially felt awkward about being called a miracle man. He relented because he believes – we are all Miracle people. When we heal the spirit and make it vibrant, our potential is miraculous. I have read, miracles are common place for those who live their lives from a higher plane. Ramesh Manickavel operates from somewhere there.
Because of the way the sessions were structured, I missed listening to Malinee's talk – Letting Go. She is the only person apart from Ramesh Prasad whom I know in this group. I am impressed by how she has grown during the last five years since I met her in Cherai. Her dignity, confidence levels and poise strike me. With this frame of mind there is no doubt she will do phenomenally well in her life as an entrepreneur.
I don't get to listen also to Abishek Iyappan and his message about Changing Lives through Street Plays. Abhishek is the bubbling bundle of energy Ramesh relied on right at the start of the day to put some collective josh into the group. He doesn't really need a drum to announce his presence. His presence is announcement enough. I know this young man's life will not be ordinary.
My granddaughter doesn't find my stories amusing at all. So, as I write this post, I realize I should have attended Meera's session – I tell stories. There is virtue in exploring domains I am not at ease with. An image of the day that registered in my mind is seeing Meera sitting in the lawns with her group, communicating her message with passion – her eyes shining brightly, her voice a hush-hush in one moment and slowly rising in excitement a little later, her hands gesticulating and every cell of her body participating with intensity. I know only too well, I create and transform my life by the stories I tell myself. And, if I change my stories, I also change my life. The next time when there is a chance, she is the one I am going to listen to first – and I will be better at telling stories. Probably that will also help me to tell convincing stories to myself.
Looking back on Inspire Days, it turned out to be the celebration Ramesh had promised. He seemed to relish giving the stage and the opportunity to bask under the arc lights to a few exemplars. And they excelled in sharing from the deepest part of themselves. All of them reminded me about the immense possibilities within me to go to the edge and explore my unboundedness.
Once I saw a very beautiful video clip of Leonard Bernstein, a very famous American maestro, conducting an orchestra. At one stage of the performance, he was so much mesmerized and engrossed  by the way his musicians were celebrating music, that he folded his hands, his baton motionless, and stood still,  simply enjoying the music, a beatific smile adorning his face.  He achieved so much with minimal effort. That was Bernstein's art. At Inspires Days, Ramesh was the maestro, exhibiting his art effortlessly.
Inspire Days invites me to make my own, these profound words of John O' Donohue:
"Everyone is an artist. Each person brings sound out of silence and coaxes the invisible to become visible."
To be that artist, I see myself creating space and honouring my passions of the mind, heart and spirit.