I had heard about John O'Donohue's book, Anam Cara – A Book of Celtic Wisdom, about three years back and had even gifted it to a very special friend then. It is only very recently that I laid hands on it to be waylaid by its charm and poignancy.
Anam Cara in Gaelic means soul friend, someone with whom you confide the deepest secrets and in whom you find a home. Such friendship stemmed from an act of recognition and belonging, both ancient and eternal. Love is the essence of that relationship birthing understanding and belonging. Love for John O' Donohue is the threshold where divine and human presence ebb and flow into each other. The anam cara experience brings about the integration of idea and affection, as the intellect now embody a new tenderness and compassion. The arrival of an anam cara awakens life from its exile and liberates shackled possibilities.
An anam cara holds a mirror to reflect your soul and the honesty of the relationship gives wing to one's spirits. The greatest gift an anam cara brings you is the awakening of love within. As we allow that love to blossom within, we become free – of the need to seek affirmation, respect and validation to stroke our ego. Instead, we flow into the other in total intimacy and belonging, fully sufficient unto ourselves. In this beautiful relationship, each one's individual differences are gifts – nurtured to bloom to the fullest in an air of understanding and freedom.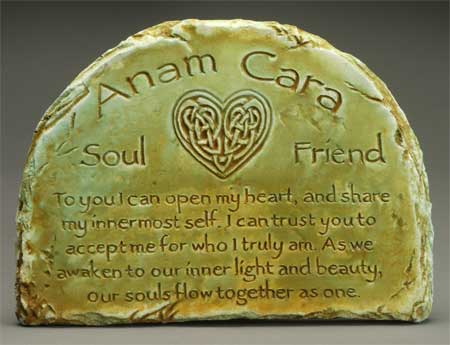 As I read the book, I couldn't help pining for the wonderful experiences with an another. It is a commentary of our times and our natures that we desperately seek, yet stay prisoners in our own islands without finding our anam cara. Most often fear blocks the transparency in relationships so essential for the blossoming and fruition of an anam cara experience.  There is nothing so fulfilling as a relationship with a soul friend. It is difficult to extinguish the embers even when sourness develops in the relationship.
The author uses his profound understanding of Celtic traditions to delve into what it takes to create an integrated and balanced being. He highlights the unity of life and inner friendship in Celtic traditions "that embrace Nature, divinity, underworld, and human world as one. The dualism that separates the visible from the invisible, time from eternity, the human from the divine, was totally alien to them."
Donohue speaks about the soul throughout the book. He says, "Your body is in the soul, and the soul suffuses you completely. Therefore, all around you there is a secret and beautiful soul-light……Your soul alone has the map of your future…..it will teach you a kindness of rhythm in your journey. " The soul makes possible the spring of love because it is a presence from the divine world and contains within it the echo of primal intimacy.
Love is not confined to a relationship between two people or lovers. It begins with recognizing and cherishing the fountain of love within each person. Being at home in one's body lends substance to all other relationships. Because "the body is the mirror where the secret world of the soul comes to expression. The body is the sacred threshold."
There is an entire chapter on the senses because they are the thresholds of soul. He says, "To be sensual or sensuous is to be in the presence of your own soul."  There is poignancy and beauty in the way he describes each of the senses and I wish it were possible to convey his deep intimacy with matters of soul, expressed in a language bordering on poetry. The following captures the essence of it all:
"May you realize that holiness is mindful, gazing, feeling, hearing and touching.
May your senses bring you home.
May your senses always enable you to celebrate the universe and the mystery and possibilities in your presence here.
May the Eros of the Earth bless you."
In the chapter, Solitude is Luminous, Donohue dwells on the discoveries we would make only if we choose to listen to the secret and mysterious nature within us through diffused, indirect candle light perception. Neon vision is too direct and clear to befriend the shadowed world of the soul and powerless to plumb its mystery, silence and darkness. One can meditate on these resonating words, "Rather than trying to expose the soul or offer it our fragile care, we should let the soul find us and care for us." We then discover and live our unique destiny in rhythm with our life.
This book is all about rhythm. Being true and in rhythm with our inner selves. Finding the rhythm with another and nestling there, understood, belonged and cared for. Understanding the rhythm of nature. And, letting the light of our soul swathe us, so we discover our sense of balance and our rhythm in all aspects of life.
As I read the chapter, Work as a poetics of growth I pondered for long on these words, "Our work should be the place where the soul can enjoy becoming visible and present….Our nature longs deeply for the possibility of expression in what we call work." My attitude to work has undergone a change recently. It is increasingly becoming an expression of my soul and my deepest aspirations. However, the turmoil within me – ruminating about whether I create the space for creativity and freedom at work for the employees – still lingers. I visualize myself learning to use my power to be an agent of far-reaching and positive change.
As I age – I hate to admit this though – and frailties begin to surface around my body, it is some consolation to dwell on Donohue's words in the chapter on Aging: The beauty of the inner harvest, " Within the harvest circle, you are able to gather lost moments and experiences, bring them together and hold them as one….Consequently, as your body ages and gets weaker, your soul is in fact getting richer, deeper, and stronger." Despite the truth of aging, Donohue also emphasizes that a passionate heart never ages…..If you begin to feel the warmth of your soul, there will be a youthfulness in you that no one will ever be able to take away from you.
The last chapter on Death: The horizon is in the well is about the fear of the ego to be no more and be powerless. It is also about the urgency of the time you have here. The waste of time is one of the greatest areas of loss in life….When you learn to let go of things, a greater generosity, openness, and breath comes into your life.
"Your life becomes the shape of the days you inhabit. Days enter us,"  is a sobering thought  I am left with. It is an invitation to live compassionately and creatively and transfigure everything that is negative within you and about you."
My copy of Anam Cara has so many passages that have been generously underlined. There is truth, beauty and integrity underlying John O'Donohue's thoughts and words. I am blessed to have read the book.