Saturday, 29th June, 2013
Today was the Graduation Day for those of us who attended the "Train the Trainer" programme at IITD. In a very nice function I received my Graduation Certificate which says:
" This is the certify that Babu Vincent has completed 5 months intensive 'Train The Trainer' program on Life Skills, Leadership, Personality Enhancement and Organizational Development. We hereby confer on him this Master Diploma in Training on this day of 29th June 2013."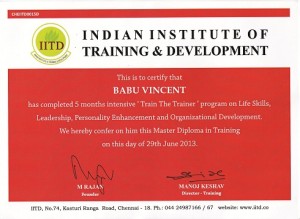 Manoj was very kind in his introduction of me. He said he was floored by my presentation on Leadership and about my case study of First Flight during my presentation on Team Building. I felt very tall when he described me as an inspiring leader and motivator whom he respected.
In my acceptance speech I spoke about my feelings of gratitude to Rajan and Manoj as well as to the wonderful batch mates of mine. I did not utter those words flippantly. Rajan and Manoj have had a tremendous influence on me. They live their talk and they are both great souls living very simple and humble lives. And, the  co-participants have been absolutely wonderful. Drawn from different walks of life, they have been wonderful friends. I do not think I have ever connected with any other group so easily, in such a short span of time.
Sunday, June 30, 2013
Getting into the profession of training was never a serious interest with me. However the desire lurked in my sub-conscious, I guess. Last year I wrote in my Mission Statement about wanting to transform lives through writing and speaking. I went to the introductory session held by Rajan during January this year, more out of curiosity than anything else. A few things he said there convinced me to join the course, never mind the huge investment. I am happy that I took that decision.
The course has convinced me that within me reside a lot of potential. The many opportunities I had to present my ideas before others confirmed that I could communicate effectively at a deep level. And I am fortunate that there is a yearning to learn more and do my best in all that I attempt.
However, I need to curb my inclination to show off or to give a free rein to my ego.
I know there is no way I or anyone for that matter, can transform other lives, without going through those changes within. In many areas, my words and actions are in alignment, yet there are aspects of me that needs greater transformation.
And, I want to be the living proof that a life lived in alignment with the flow of life can bring abundance in all aspects. Discipline is what I need more of, in my life.
From next week I will start feeling my way around in the training space. I feel a trifle intimidated by what now appears to be daunting challenges. Yet I must press ahead. I have to start selling myself. It is time I made my visiting card and a web site too… There are many things to be done. From now I should not go to bed without reading.
Perhaps I should not focus on too many areas of specialization. I believe I can speak with some authority on 1) search for meaning (Mission statement & the power of why), 2) Leadership skills, 3) Teamwork and 4) transition acceleration within individuals and organizations.
It was very generous of Mathews to have thought of me to collaborate with him in his dream to create a portal for trainers. www.trainershub.in is a fantastic concept and done well, it can help other batch mates to find their moorings, especially during the initial period, as they grope for direction. I really look forward to contributing with my ideas and skills.
The world seems to be opening up. The pains I have gone through without losing hope or becoming cynical, must have visited me  for a reason – to make me stronger. I am very fortunate in many, many ways.