Leading up to the Kochi marathon, my training was anything but perfect. Sleep, complacency and persistent morning rains robbed a few days of practice. So, I wasn't a picture of confidence as I boarded the late evening train for Kochi.
I hadn't packed my food and the only time a vendor passed by with food, there was a man standing close to the aisle chatting with another man, blocking my view. I should have shouted out my order for food, but then…. I am inhibited, a product of proper upbringing, which means no shouting in public.  So, the vendor came and went. Unfortunately for me, no other vendor came after that.
Hungry, I got out of the train at Katpadi station around 10 pm to find something to eat. After walking for some distance in one direction, I walked back in the other. Finally I found a vendor with biryani and relieved, asked him to give me a packet. Just then the train started moving. I took out the wallet, moved into the moving train and standing at the door, gave the vendor his money. It was then I realized I had got myself into the general compartment and there was no passage to the reserved compartment from there.
The panic and dejection nearly made me numb. I ate the egg biryani, standing close to the door. Though I had a bottle of water with me, there was no way I would make my way to the toilet to wash my hands. People were so tightly packed and there were a few people even in one of the two  toilets.
Soon enough, I become composed, even calm. I had enough time to stand looking, amused and sad, at the poor men and women standing or sitting, trying to catch some sleep. Philosophies of life came to me during those hours of rumination. I remember distinctly the strain of thoughts…….
Had it not been for the biryani, I could have easily run to the next compartment and got inside the first reserved compartment from where I could have moved on to mine. I saw myself in a similar predicament as the monkey which got caught because it was intent to wriggle its hand out of the jar, holding on to the peanuts in its hand. Sometimes, all it takes to get to my rightful place is to let go of things that hold me captive.
In my search for food, I was unmindful of the train's impending departure. If only I had been more aware….. being rooted in the NOW.
Inside the general compartment, I fumed in my mind, at the tall man who had stood on the aisle and blocked my access to the food vendor. Then it dawned on me that it was I who stifled my voice to shout for food from the vendor. My fear to stick out and be seen blocks my utterances in public, with a group of people, on facebook, linkedin and so many other places….
This is a lesson I will never forget. That I have the right and the duty to give vent to my thoughts and be heard by the world.
The train did not stop at the next major station, Jolarpettai. I stood in one place in the train till Salem, for two hours and a half immersed in my thoughts. And occasionally observing the people around me particularly the lady who was selling samosas and who deftly ran out of a slowly moving train at Jolarpettai at around 11.15 at night.
Well past midnight, when the train stopped at Salem, I ran to my compartment and was relieved that all my belongings were in place. I realized too, that the two hours and a half sojourn in the general compartment was a gift in disguise. With feelings of gratitude, I slept a delicious sleep.
The next day was pretty free and relaxed excepting for collecting my T shirt and BIB. And I spent a lot of time with my friend, Johnson. In my room I had the company of a very good runner, Sathish. We got along very smoothly.
The next day, very early in the morning, along with other Chennai Runners, we reached the venue just before the race kicked off at 4 am. Even at that early hour, the air was heavy with humidity. I would be lying if I say that I felt confident about completing the race that day. The humidity, the lack of practice and the experience in the train a night before – all sent ominous tidings. There were furtive thoughts that asked me how soon I was going to end this ordeal.
Luckily for me, I persisted and after about 7 km, I got into a rhythm. I remember running till 21 km at a comfortable, reasonably fast pace. From around 27 km, it was another story. The humidity took its toll and my legs felt too heavy to lift. The volunteers at water stations had no idea about the remaining distance and they kept lulling us with comforting numbers. Thus, the distances stretched and lengthened. And I kept running because there was no way I was going to stop.
After around the 35 km mark, each leg I lifted required a special effort. One step at a time, I came close to the finishing line. A few Chennai Runners were there before the finish  line to escort me with honour till the red carpet.
At the hotel, when I took out my mobile, I saw the message from the organizers congratulating me for finishing the race in 5.01 hours. This performance pales in comparison to my first marathon in Bengaluru.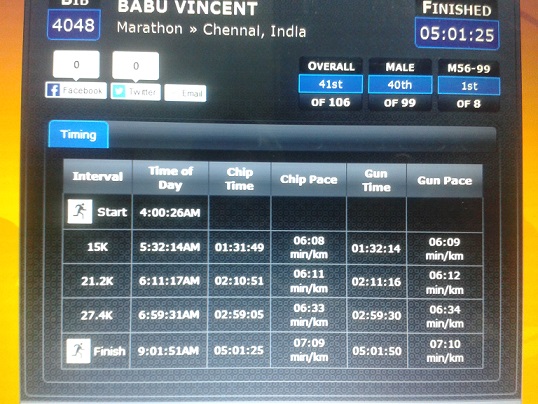 The next day, back in Chennai, I saw the results on the Spice Coast Run website. Out of 106 runners, I was placed 41st. And in my category which had 8 people, I was first in the list. I learned later to my utter amazement that my name was announced during the award ceremony. I was oblivious of the call.
I am so happy that I ran and completed this race. Probably, I will go to Kochi again next year to tackle the challenge with more nerve and resolve. Excepting for a few glitches, the organizers did a very good job. The hydration support was great.
To me, it does not make sense to advertise flat tracks as the attraction of Spice Coast Marathon. I would instead position the track as mean, spicy and hot – meant only for the toughest of people.
After all, which marathoner would register for a marathon because it is a walk in the park?