When efforts in our business did not fetch immediate visible results, I used to get gripped by fear. I saw these fears crippling the business in the past. These days I rest in faith and gratitude in the knowledge that efforts we put in will yield abundant dividend. And there are so many things going right these days.
The software which we currently use has spawned significant changes in our thinking and systems. It brought about clarity and direction out of which cascaded a lot of other transformations.
People in our office look forward to the training sessions every fortnight. They are able to see the transformation taking place on many fronts.
We now have transitioned from auto rickshaws to a Maruti Omni van to transport our people and equipments. Apart from saving money, the display of our name on the vehicle gets us free publicity.
There are more people in the housekeeping teams. And a new found urgency to keep everyone busy. Realization is beginning to sink in that everyone in the company – including the housekeeping staff – is responsible for selling. They too are making serious attempts to get customers.
We take special efforts to inculcate the wisdom that time is money, and have started counting the hours and minutes.
I used to be indifferent to the number of jobs we performed every day. Now, there is a big white board right in front of my eyes in the cabin which tell the story of our business in numbers. I also get to know whether our teams are reporting at the customers' place on time. There is immense happiness when targets are met and improvement is registered on a continuing basis.
I have got down from my high pedestal to hold weekly meetings with the key housekeeping staff, making it a point to circulate the minutes of the meeting. It takes time to move away from old habits and ways of thinking. Yet, the teams are beginning to make efforts in different directions.
Also, procedures are being standardised and documented, to create manuals of operations.
Our teams will soon have fresh batch of uniforms in better materials.
For the first time in more than 13 years, we also advertised in a neighbourhood paper – Mogappair Times – on 15th of this month. Last Sunday, on 22nd Dec, ads appeared in Mogappair Times and Anna Nagar Times. The response has been good. The weeks ahead should see more ads in different publications. Six months down the line, decent ads in The Hindu and Times of India is the goal.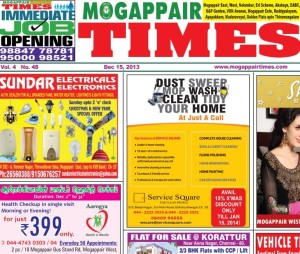 We have to ramp up several notches to make marked improvements in our services. Everyone here believe we are the best, but I know we still can do a lot better. The search is on for better cleaning materials, equipments and more effective cleaning processes.
The key is to find innovative ways of creating delightful experiences for customers whenever we get a chance to serve them. That is the only way we will provide much greater value in comparison to the price we get from our customers.
Our telemarketing team which will have 4 members soon, keeps our customers engaged about our services. They also focus on getting more leads and prospects everyday so that we do not experience dips in our business.
Floor polishing, home painting, sofa cleaning and home renovation are services we can get more easily because of our access to our customers. Enquiries and orders for these are coming, though slowly.
Mathan is spearheading a lot of these changes. He is a blessing. Dhana Laxmi is a huge asset in managing operations and giving a sense of direction to the telemarketing efforts.
Big ticket real estate transactions is one area we will get involved in, in the immediate future. Big money is a fascinating chase.
Along with the lofty ideas and dreams, I have to learn to count the rupees coming in and going out by investing quality time with our accounts. This area has been our bane till now.
Perhaps the housekeeping staff is beginning to believe that their lives can be changed if only they believe and put the necessary efforts. Some of the housekeeping staff have set goals of earning Rs.50,000 every month, five years from now. Even if they do not seriously believe in their goals taken during the training programme, I will consider myself a failure if I do not show them the way.
Big challenges particularly those arising out of my clumsy handling of finances in the past rear their heads to cause enough tremors to worry about. I have to think and find my way through these problems.
Ultimately, it all boils down to creating the tide in our favour. I know the time has come to ride the waves in abandon.
Speaking about tides, in life or in business success or failure is determined by what Shakespeare wrote,  "There is a tide in the affairs of men, which taken at the flood, leads on to fortune. Omitted, all the voyage of their life is bound in shallows and in miseries. On such a full sea are we now afloat. And we must take the current when it serves, or lose our ventures".
Business is all about the power of ideas transferred with emotion and passion. It is only then we muster the courage and the motivation needed, to surf the waves.
I have to tell myself again and again that I am responsible for causing that to happen. In conventional warfare, generals get into the trenches and get dirty to lead from the front. The time has come to prove my credentials.