I ran my last full marathon about 4 years ago – sometime in January, 2017.
Since then, I have often heard the stirrings from within to get back to the level of practice I was used to, back then.
Because, I want to run another long one – very soon.
Injuries, laziness, lack of motivation, work, ………. were the reasons for not seriously training for another marathon, all these years.
Now it is time to go beyond the seductions of good reasons and listen to the louder imploring from within, to ask of myself that important question once again.
There is that part of me that cautions me against being over ambitious. Getting back to that level of preparedness is daunting. I had reached the summit then. Now I am nearly in the depths. Though I run quite regularly, long distances are things of the past.
The predicament of the Greek mythological hero, Sisyphus, comes to mind. He was condemned by God Zeus to push a huge boulder up a hill for eternity only for the boulder to roll back down again, once he reached the summit.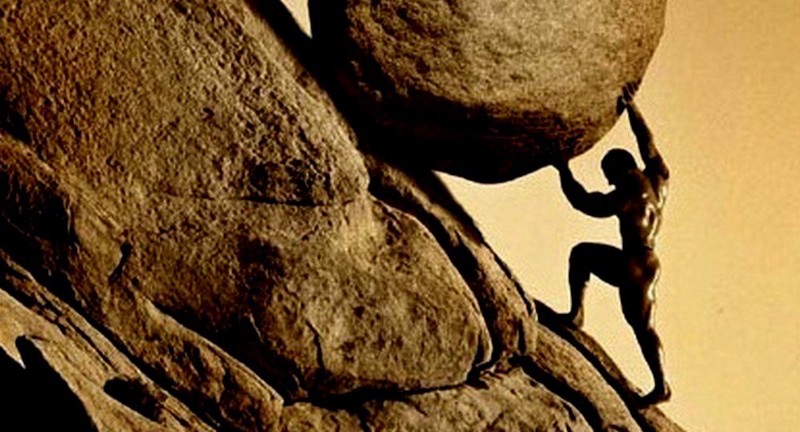 But Sisyphus proved he was stronger than the rock. And he relentlessly soldiered on – though mindful of the futility of pushing the weighty boulder up the hill again and again, every muscles straining, only to have it roll back down hill, once he reached the pinnacle. Over and over and over again.
Maybe his joy was in the glory of plodding to the summit. Or he just had no choice. Or, he accepted that choiceless situation gamely, even happily – as suggested by Albert Camus in his essay, The Myth of Sisyphus.
If, even the gods were jealous of Sisyphus, it must have been because he had a way to be happy – regardless of whether he was up or down. He must have been one of those rare people who lived in the present and relished every moment.
So, while going up the hill with the boulder, he would have relished the act of pushing and making himself strong. And while coming down, he would have thoroughly enjoyed the saunter down.
Opting for the choice to run is a way of telling myself that I am stronger than the rock and glory awaits at the summit. And even along the way.
I know it will rain in the mornings as is the case in Chennai these days, I will be soaked in sleepiness at 4 in the morning, I will pant for breath while running and I may even feel tired of it all.
I chanced on this profound LinkedIn post, just yesterday, from Anil Thomas, an NLP Trainer in Mumbai.
"Our strengths and weaknesses together complete us.
Only when you understand that,
The path of the ascent and decent is one in the same constellation."
I am going to run 42.195 km on February 14, 2021!! 😊
I have 68 days from today to get ready to conquer my hill.
Running the marathon is likely to be easier than some of these other goals that I intend to pursue.
This is where I am aiming to be at the end of 2021 and I tell myself this over and over.
"I wake up every morning with gratitude for the beauty and fullness of life I enjoy.
I love who I am. I radiate love – on Rosy, Anusha, Antony, Akira, Avira, and my near and dear ones to be themselves at their authentic best.
I attract abundance into all areas of my life.
Service Square is thriving and growing, achieving a minimum turnover of Rs.3,50,00,000 in 2021.  The profits we earn help spread our network and ensure excellence in all we do. I value money for the bounteous experiences it can give me and for enhancing life in the world around me.
Our values and what H.E.A.R.T (Hear, Empathy, Art, Ritual, Transcend) represent, create a strong Service Square brand – known for the best customer service – where every service rendered is a manifestation of a warm, WOW experience. I help bring prosperity and a spirit of family to our employees.
To set very high standards in all aspects of my life I make choices that enable growth, and shun instant gratification that would stunt my growth.
I meditate daily and live in a state of being, in present moment awareness.
I write and read every day and engage with my soul's agenda.
I teach people to be the grandest versions of themselves.
I stay fit always and thoroughly enjoy my routine marathon run preparations.
To achieve digital transformation and expertise, I see myself doing everything it takes to learn and understand the subtle nuances of being an effective broadcaster using ever changing communication technologies. To reveal myself to the world as I am. To tell the world about my business and the great works we do. Because, doing great works is rarely enough. The real juice, impact and traction is in doing great works and letting the world hear about it.
The best of me is just arriving.
Celebrate the dreams. Celebrate the burdens, too. For it is in that delicious tension point—where dreams pull forward against the backward draw of one's burdens, where life becomes a beautiful work of art.
-Shannon Hayes